HY-W-SJS-3
Computerized Chain Stitch Multi-needle Quilting Machine
CE-Certification | widening | high efficiency
NEW HY-W-SJS-3 Computerized Chain Stitch Multi-needle Quilting Machine
[ CE-Certification | widening | high efficiency ]
Purpose: It is widely used for quilting high-quality mattresses, quilt covers, and household ornaments. Different patterns are available.
1】Servo system is used in X-Y-Z axis, that can improve 30% production for independent patterns;
2】Newly reinforced structure makes it work more stably;
3】Raising supporting board makes it more convenient to operate and maintain;
4】Y axis reduction gearbox makes it work more fluently with low-noise;
5】New type retainer frame structure,with the advantages of low noise;
6】Optimized the mechanical structure make the higher speed and more production;
7】Press plate lifting can be adjusted by one-button according to different material thickness;
8】More tight thread stitches make the quilting pattern with stronger third dimension;
9】Needle bar and press plate are controlled by a doubles-winging device without cam avoiding lubrication and dirtying of material;
10】Multi-span and independent patterns(360°、180° patterns are available);
11】Automatic stop motion control in case the top thread or the bottom thread breaks, automatic needle-lifting and CNC speed adjustment;
12】CE certificate;
13】Outstanding features such as high rigidity,high running speed,low vibration and noise.
14】New generation of CNC system,high precision quilting,dispense with too much parameter adjustment or pattern modification during quilting;
15】Easy preparation of CAD drawings extremely precise;
16】Strong functions of pattern-combining and multi-span quilting to enable you to quilt different patterns in each row in the mattresses of different sizes;
17】Fault detection function for ease of determining the running state of the machine at any given time;
Parameter(单位/Unit mm)

HY-W-SJS-3

Dimension(LWH)

4800×1500×2100

Quilting width

2550

Space between needle rows

50.8,76.2,127 [5"]

76.2,76.2,152.4 [ 6" ]

Space between needles

25.4

X-axis movement displacement

350

Thickness of quilting

≤ 80

Stitch length

3~8

Speed of operation

60~300[m /hour]

Model of needle

24/180,23/160

22/140,21/130

Quilting speed

600~1200 [rpm]

Total power required

8.5 KW

Voltage

380V/50HZ

220V/60HZ

Gross weight

5600KG
Appearance 1: split electric box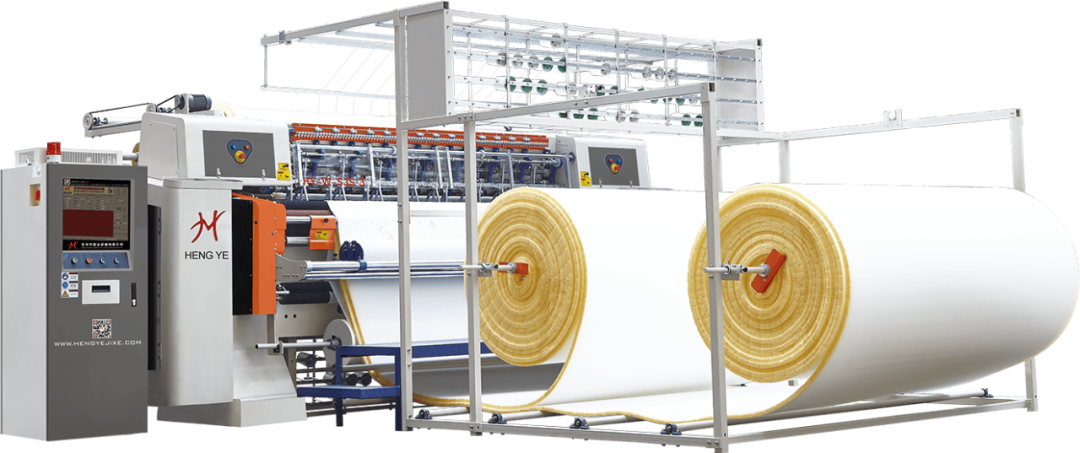 Appearance 2: Integrated electrical box
| | | | | | | |
| --- | --- | --- | --- | --- | --- | --- |
| Model | HY-W-DGN | HY-W-SJS-3 | HY-W-SJS | HY-W-SJ | HY-W-BSJ | HY-W-JH |
| A | 4990 | 4800 | 4700 | 4795 | 4795 | 4840 |
| B | 2120 | 2100 | 2100 | 2050 | 2050 | 2000 |
| C | 2870 | 2820 | 2820 | 2800 | 2800 | 2940 |
| D | 5690 | 5400 | 5400 | 5460 | 5460 | 5540 |
| E | 500 | 670 | 500 | 500 | 500 | 350 |
Appearance 1: split electric box

Appearance 2: Integrated electrical box





Quilting Machine | Hemming Machine | Cutter Machine | Stacking Machine | Roller Device,We can provide a full perfect combination according to customer's requirement !
HY-W-SJS-3 Quilting Machine
HY-FQ-2 Four Side Hemming and Cutting Machine
HY-D-1 Stacking Machine


Recommended for you